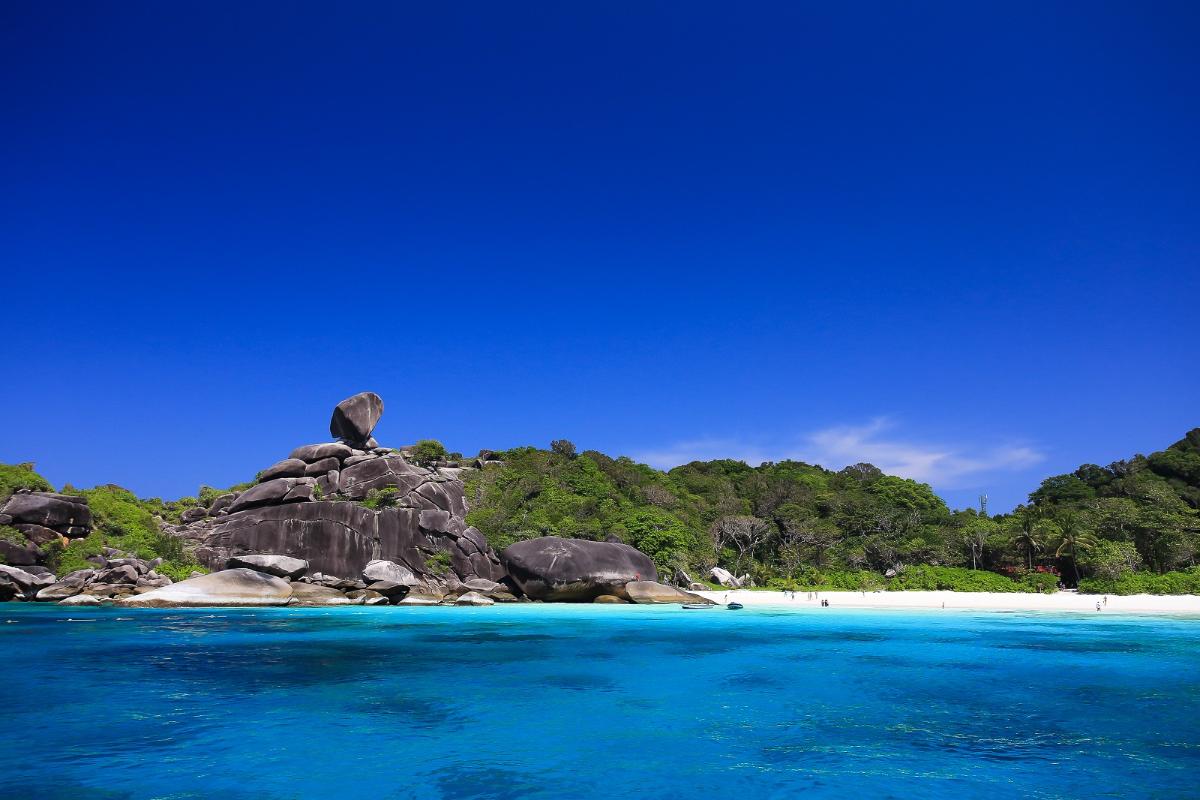 Snorkeling Similan Island (1 Day)
Travel Information
Travel Rate
Join a happy trip with a professional guide team. That takes care of you throughout the journey And experience the beautiful underwater world with various types of corals Colorful sea fish, crystal clear water, white sand beach at Similan Islands This is what you will experience. In visiting the most beautiful sea, 1 in 10 of the world
08.00 am. Meet at Seastar's office to check in and pick up snorkeling equipment, have snacks and drinks (tea, coffee, Ovaltine).
08.30 am. Depart from Seastar's private pier travelling by the best speed boat in the Andaman Sea.
09.50 am. Snorkeling and appreciating the beauty of the underwater world, viewing fishes and colourful corals at islands 5 and 6.
11.00 am. Arrive at island 4 (Koh Miang), snorkeling at Princess Bay and relaxing at your own leisure on the white sandy beach. The sand of the Similan islands is named as the whitest sand in Thailand.
12.00 am. Full quality set lunch buffet (seafood) on island 4.
13.00 pm. Depart island 4 to Koh Ba Ngu (ialand 9) for afternoon snorkeling at Christmas Point, the highlight area of snorkelers, where there are attractive coral reefs and a variety of colourful fishes.
14.00 pm. Take you to visit a Sailing rock which is the landmark of "Similand sea" at island 8 (Similand island) to relax/swim at beautiful Donald Duck bay (Ao Kuak).
14.15 pm. Arrive Donald Duck Bay on Similan Island (island 8) where you can relax on the beach, swim, take pictures or clamber up to a view point on the top of a Boat rock. You can also take a shower and change your clothes on this island.
15.00 pm. Depart Similan island (island 8) and head back to Seastar's private pier.
16.30 pm. Arrive at Seastar's private pier; Tub Lamu and safety transfer you back to your hotel.
... End Trip ...
This price includes:
Pick up / drop off from hotel,
Professional tour guide,
life jacket and diving equipment,
park entrance fee,
well set lunch, snacks, fruit, drinks throughout the trip,
Travel Accident Insurance 500,000 baht,
Vat 7%
Sea Star offers shuttle service from hotels in Phuket - Khao Lak.
Things to prepare: swimwear, towels, sunscreen lotion, personal medicine, camera, hat, sunglasses, smile and heart
Note: Children between 4-12 years old and not taller than 120 centimeters