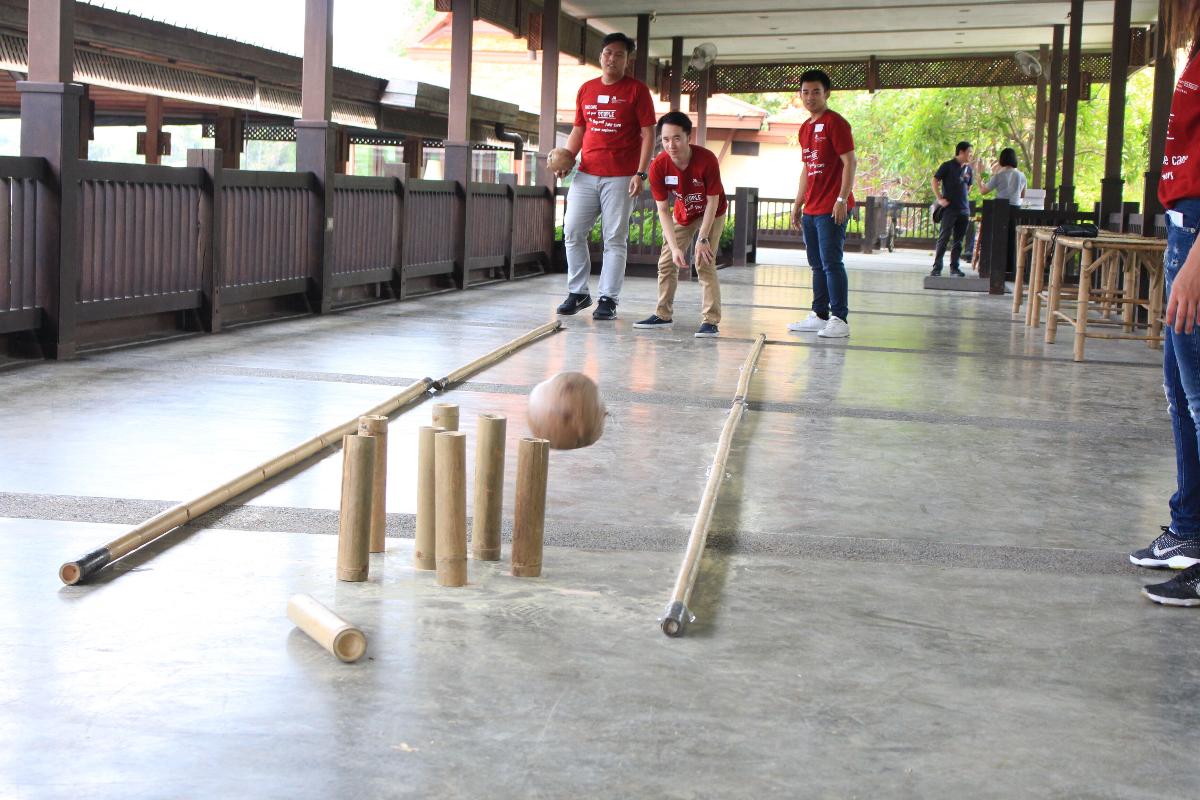 GAME Walk Rally (Team Bonding Exercise) 3 hours
Travel Information
Travel Rate
วันที่ 1
TEAM BONDING EXERCISE
Program highlights
<< A truly unique and original team building program focusing on 4 vital skills to improve performance: teamwork, communication, productivity and time management.
<< Increase awareness of Thai culture as many aspects of Thai pastimes and games are incorporated into the activities
<< Our team will manage the entire exercise which includes, debriefing the participants, conducting the games and concluding the results.
Schedule
Schedule − Daily 09.00 hrs to 11.00 hrs and 16.00 hrs to 18.00 hrs − Booking on reques
Challenges selection
−Group size 40 to 60 persons can select 6 games from the following:
 Coconut bowling  Coconut shell walk  Rice sack race  Clay figurines  Coconut delivery  Traditional weaving  Garland making  Unity rail  Takraw  Catapult
− Group sizes 61 to 120 persons can select 8 games, 121 to 150 persons can select 10 games and 151 to 200 persons can select 12 games from the above and below:
 Herbal compress  Umbrella painting  Blindfold tin can hitting
Program rundown
Arrive and begin briefing followed by random team formation and handout of bandanas to all team members and a passport to each team.
Drum roll will start the race and teams rush to compete in the selected challenges until a second drum roll will signal that time is up. Each team will need to follow the tasks and rules stated on the boards at each challenge station and submit their results to the stations marshal, who will note down the score and summarise them.
First group to successfully compete all challenges will receive full points for time management with the following teams receiving points in descending order. We will combine those points together with the scores collected by each station marshal and compute the results. Announcement of the results and prizes will be awarded to the winning team. Please advise name of person we can call upon to give out the prizes.
Includes
English-speaking facilitator
Debriefing, conducting the games and announcing the results
Maps, bandanas and game equipment
1 set of prizes for the winning team for group size 30 to 119 persons or 3 sets of prizes for winner, 1st runner up and 2nd runner up for group size 120 to 200 persons.
Cold towels and drinking water
Remarks
Minimum 40 persons and maximum 200 persons
Program and activities may be adjusted depending on the final number of participants.