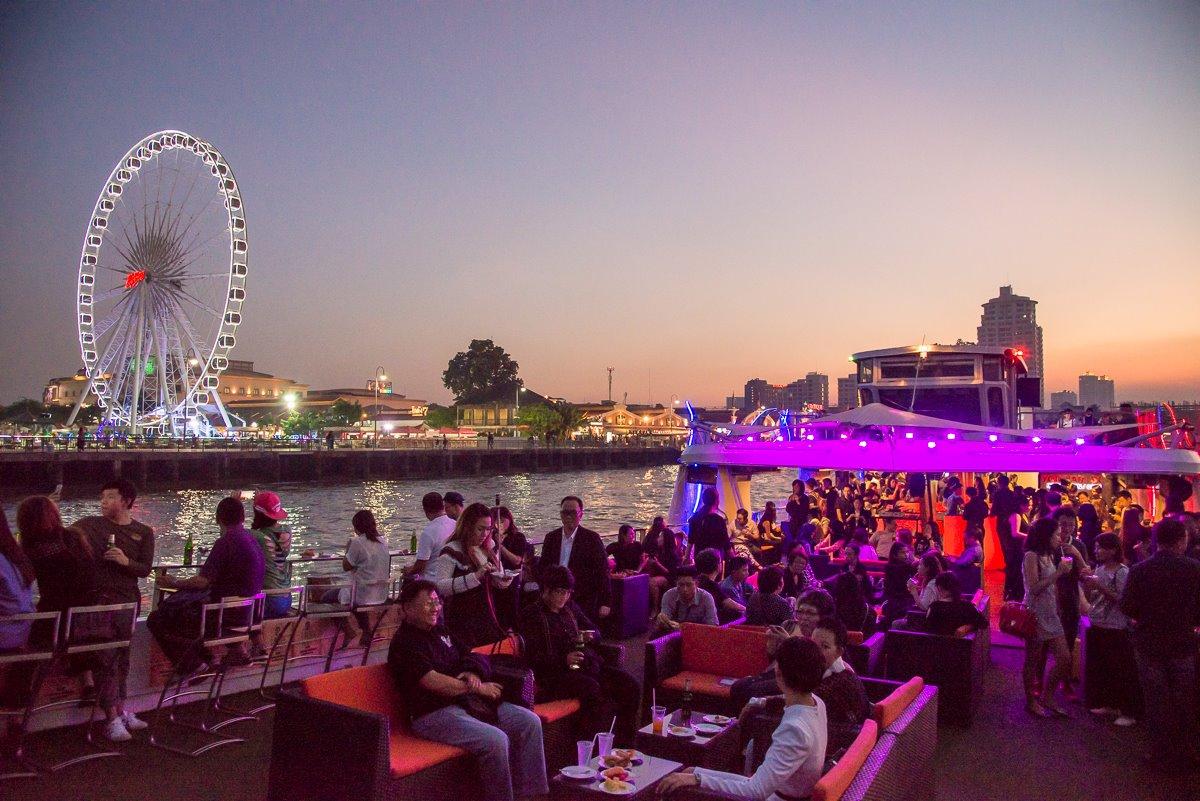 Dinner Cruise @Yodsiam Boat
Travel Information
Travel Rate
วันที่ 1
Cruise on the Siam view Chao Phraya drink beer or spirits cocktail, wine and drink unobstructed.
Yodsiam boat Co.,Ltd Chao Phraya Tourist at night. You can enjoy a relaxing cruise on the river. Enjoy a boat tour to the new look. Along with delicious snacks and soft drink prepared for welcoming customers. We offer 5-star dinner cruise Guarantee! With dinner amid the atmosphere of the Chao Phraya River and Bangkok wide angle views. Our boat stops at Asiatique. On this ship, different from other ships with a variety of various dimensions. Guests can drink we offer a wide menu to choose whether Soft Drinks, juices or alcoholic beverages are also available, or you are very hungry. We have snacks, biscuits and fruit are served as well.
Schedule daily commute
18.30 In this round, you can absorb the atmosphere of the sun, and now it's back to the atmosphere is casual.
20.00 This round is after dinner, ideal for customers who already eat dinner. The relaxed atmosphere, soft music. You can get on a boat in this round without the need to place around 18:30.
21.30 In this romantic romance. We will make the atmosphere inside this ship is yours. We will let you spend time with your loved one on our boat was full.
You can abuse the atmosphere on Chao Phraya River Fully. On this ship has a fourth atmosphere. Near the center of the ship is outdoor. The boat has air conditioning. And the highlight was the bow. You can feel the freedom of their own midst. Chao Phraya River With musical accompaniment. Music is a universal type of easy listening instrumental music and the atmosphere along the way. The second floor of the boat is the private zone. The seat is designed to sit in pairs. Ideal for couples who want more privacy.
We are waiting for you to abuse the atmosphere, the beauty of the river. Waiting for you to be together
We will sail the route from Asiatique, then through the King Taksin bridge and going through four large 6-stars hotels, it will pass the Memorial Bridge. Our goal is Wat Arun. Then we will ship back to Asiatique is the beginning.
Duration: 1 ช.ม.
Notice : except korean
Important note:
Children under 5 years: Free
No food or drink is allowed on the boat.
This rate does not include Christmas Eve, Valentine, Songkran and Mother's Day.
Boat timetable can be changed without prior notice.
This package includes:
Boat Ticket Siam
Chang Beer and soft drinks.
Snacks and fruits
This package is not included.
| | | | |
| --- | --- | --- | --- |
| Period | Detail | Price | |
| 1 ต.ค. 62 - 31 ต.ค. 63 | Adult | THB 1,400 | Booking |